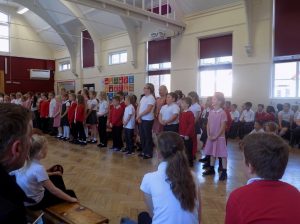 A key element of the music curriculum at Reid Street is use of the Charanga Musical School lessons which support all the requirements of the national curriculum. In line with guidance from Ofsted, this scheme provides an integrated, practical, exploratory and child-led approach to musical learning.
As Ofsted have acknowledged: "We will not always know the learning outcomes." so segregated learning objectives at the start of each lesson are not appropriate. Instead the interrelated dimensions of music weave through the units to encourage the development of musical skills as the learning progresses through listening and appraising, differing musical activities (including creating and exploring) and performing.
Each Unit of Work comprises of the strands of musical learning which correspond with the national curriculum for music:
Listening and Appraising
Musical Activities
a. Warm-up Games
b. Optional Flexible Games
c. Singing
d. Playing instruments
e. Improvisation
f. Composition
Performing
The documents below show the progression within each group and the links to the end of year expectations for children and end of Key Stage.
Progression With Outcomes Year 1
Progression With Outcomes Year 2
Progression With Outcomes Year 3
Progression With Outcomes Year 4
Progression With Outcomes Year 5
Progression With Outcomes Year 6
Charanga enables teachers to use a progressive and interrelated learning spiral which allows children to re-visit established musical skills and concepts to further their understanding of music. The associated documents highlight the spiral of learning each year group experiences and shows the interrelated dimensions of music that are used as the foundations of the music curriculum provided at Reid Street.
The Interrelated Dimensions of Music
STEAM Team
Going forward, in 2019-20 subject leads for Science, DT, Art, Computing, Music, PE and Maths are going to be working together to make more links across our subjects and build in more opportunities for developing cross curricular learning initiatives across the school.
Global Goals
All aspects of our curriculum contribute to our commitment to providing a Quality Education for the pupils at Reid Street and to supporting the global target around this.
There is a wealth of research highlighting the positive effects of music on health and wellbeing (Global Goal 3).